Back to The 265
Roy William McIndoe
Name on Board
RW McIndoe
Name on Service
Records
Roy William McIndoe
Enlistment Age
18
Occupation
Medical Student
Place of Birth
Williamstown, Vic
Next of Kin
William Donald and May McIndoe
Address
Carnarvon Road, Malvern, Vic
Marital Status
S
Enlistment Date
2/10/1914
Service No.
926
Enlistment Place
Melbourne, Vic
Embarkation Place
Melbourne
Embarkation Date
22/12/1914
Embarkation Ship
HMAT Berrima A35
Unit on Embarkation
1st Australian Light Horse Field Ambulance
Date of Death
16/12/1915
Unit on Death
1st Australian Light Horse Field Ambulance
Rank on Death
Corporal
Cause of Death
Illness (Pneumonia)
Place of Wounding/
Death
Greek Hospital, Alexandria, Egypt
Cemetery or Memorial
Chatby Military and War Memorial Cemetery, Alexandria, Egypt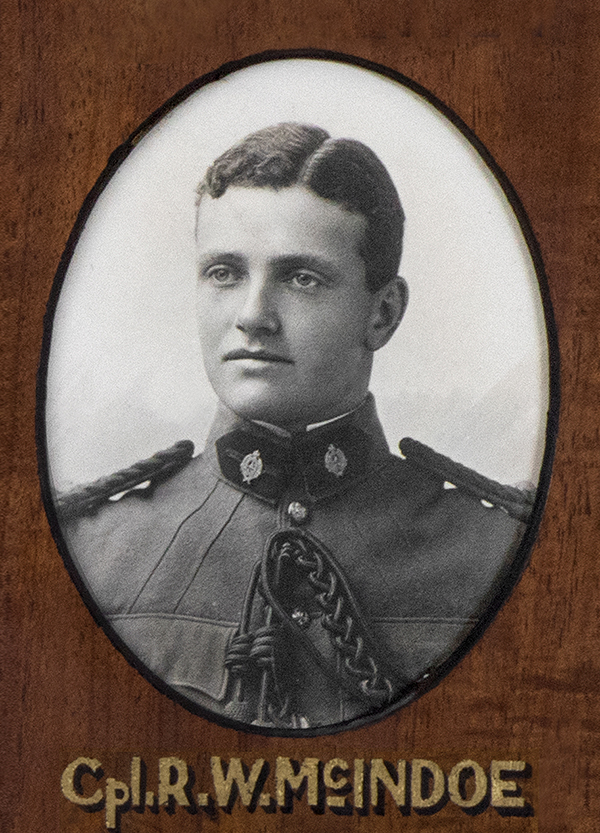 Additional Information
Roy William McIndoe won a Victorian government scholarship to attend Scotch College. He was a medical student at University of Melbourne when he enlisted on 2 October 1914 in the 1st Light Horse Field Ambulance. Because of his age (18) he required his Father's permission to enlist.  His name appears on the North Williamstown Presbyterian Church (now St Stephens). He embarked on the HMAT Berrima, which sailed with the Second Convoy of 19 ships which departed from Albany, Western Australia on 31 December 1914. He worked on a hospital ship off Gallipoli and on the Island of Lemnos where he was selected by Captain Fiaschi to assist at the operating theatre. In a letter he wrote (referred to on the Scotch College web site) he describes the demanding work:
'We got the first batch of wounded at 5.30 one morning, and the three of us at the operating theatre did not turn in again till 5 a.m. the next morning, going solidly the whole time, with half-an-hour for meals. Then we started again at 9 a.m., and finished just after midnight.'  
In October 1915 he admitted to hospital from Gallipoli with tonsillitis, returning to duty four days later. In December he was admitted to the Greek Hospital Alexandria with pneumonia and died four days later on 16 December 1915.
Additional Documents and Photographs
Click on the image to see a larger view