Back to The 265
Martin *
Name on Board
R Martin
Name on Service
Records
Martin *
Enlistment Age
-
Occupation
-
Place of Birth
Next of Kin
Address
Marital Status
Enlistment Date
Service No.
Enlistment Place
Embarkation Place
Embarkation Date
Embarkation Ship
Unit on Embarkation
Date of Death
Unit on Death
Rank on Death
Cause of Death
Place of Wounding/
Death
Cemetery or Memorial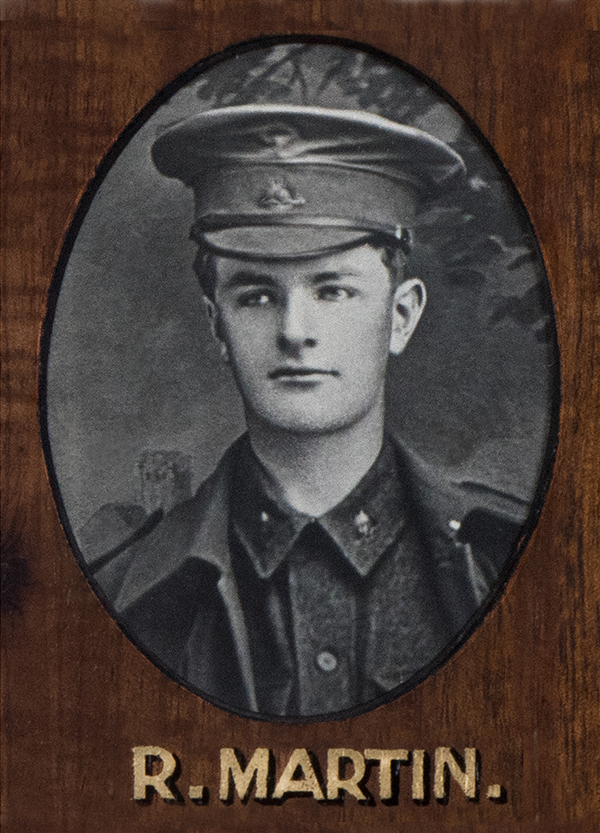 Additional Information
Regretfully to date we have been unable to confirm the identity and locate service records of R Martin.  If you have any information on R Martin please see our
Contact Page.
Research reveals that the name R Martin is on an Honour Roll at the North Williamstown Presbyterian Church (now St Stephens) but we haven't located service records as yet. Research has revealed a Thomas Richard Martin on the Australian War Memorial's Honour Rolls, who was born on the corner of Douglas Parade and Yarra St, Williamstown and attended North State School but his age at enlistment was 41 and does not appear to be the R Martin on the Honour Board.
Additional References
Williamstown Chronicle, Saturday 30 September 1916,p2 Regretfully to date we have been unable to confirm and locate the identity and service documents of this serviceman.  We would love to hear from you if you have any information that you'd like to share.  Please go to our
Contact Page.
Additional Documents and Photographs
Click on the image to see a larger view