Back to The 265
Hugh McGill Blair
Name on Board
M Blair
Name on Service
Records
Hugh McGill Blair
Enlistment Age
28
Occupation
Blacksmith, Newport workshops
Place of Birth
Stirling, Scotland
Next of Kin
David and Susan Blair
Address
80 Temple Park Cres, Edinburgh, Scotland
Marital Status
S
Enlistment Date
17/08/1914
Service No.
746
Enlistment Place
Melbourne, Vic
Embarkation Place
Melbourne
Embarkation Date
21/10/1914
Embarkation Ship
HMAT Orvieto A3
Unit on Embarkation
5th Australian Infantry Battalion
Date of Death
25/07/1916
Unit on Death
5th Australian Infantry Battalion
Rank on Death
Sergeant
Cause of Death
KIA (previously reported missing)
Place of Wounding/
Death
Pozieres, France
Cemetery or Memorial
Pozieres British Cemetery Ovillers-La Boisselle, Pozieres, Picardie, France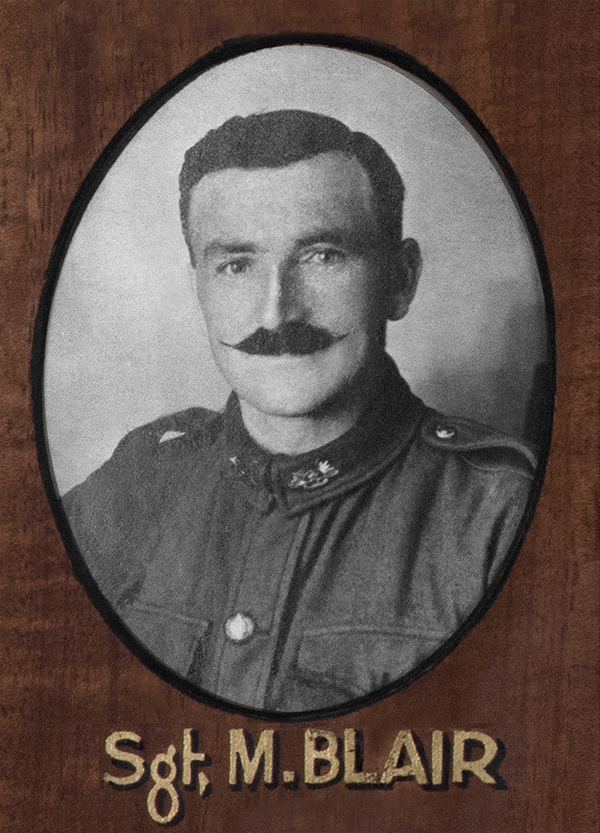 Additional Information
You can view a video on Hugh Blair and his mate Gordon Inglis on our
Video Stories Page
Hugh McGill Blair had migrated from Stirling, Scotland and was living his Aunt, Mrs Gibson in North Road, Newport Vic when war was declared. He worked as a blacksmith at the Newport Railway Workshops and was a member of the North Presbyterian Church choir and the Scottish Thistle Society. Hugh Blair was amongst the first enlistments from Williamstown, enlisting on 17 August 1914.  With the 5th Battalion he embarked from Port Melbourne on the HMAT Orvieto which joined the First Convoy of 38 ships which departed from Albany, Western Australia on 1 November 1914. Hugh Blair's first injury received during the landing at Gallipoli is not recorded on his service records.  Being overwhelmed by the situation and the hectic pace of evacuations and treatments, the Casualty Clearing Station at Gallipoli was unable to fully maintain the records. We know of Hugh's injury through a letter written home by one of his mates.  Lance Corporal Arthur Birch wrote of Hugh Blair's bravery:
'He got hit on the top of the head and carried a wounded mate on his back right down out of the line.  He collapsed from loss of blood, and then got hold of his wounded mate and dragged him along to safety.  It was a brave deed'
. That wounded mate was Gordon Rankin Inglis, who is also on the Williamstown Town Hall Honour Board.  Gordon credited Hugh with saving his life on the hospital ship: 
'He nursed me day and night, never leaving me.'
  As Gordon's condition worsened and they wanted to take him up to the deck, a precursor to death and being buried at sea, Gordon wrote to his Mother:
'Hughie would not let them touch me.  He would have killed them had they touched me'.
Hugh Blair's second wound, in the thigh, saw him transferred to hospital in Manchester, England to recuperate; following which he was sent to the Somme area in France.  Pozieres was captured initially by the 1st Division on 23 July 1916. The division clung to its gains despite repeated German counter-attacks but suffered heavily. By the time it was relieved on 27 July it had suffered 5,285 casualties.  Hugh Blair was one of them. On 25 July 1916 he received a fatal shot to his head and was last seen lying dead in a shell hole.  Due to the intense fighting his body was not recovered. Hugh's father donated his postcards and correspondence to the Australian War Memorial (collection item 1DRL/-127).  It contains a letter of condolence from John Caldwell, North Williamstown Presbyterian Church. Of Hugh Blair's three brothers serving with the British forces in WW1, one, John, was also killed in France.
Additional Documents and Photographs
Click on the image to see a larger view