Back to The 265
John Joseph Hudson
Name on Board
JJ Hudson
Name on Service
Records
John Joseph Hudson
Enlistment Age
23
Occupation
Letter Carrier
Place of Birth
Williamstown, Vic
Next of Kin
John Hudson
Address
85 Stevedore St, Williamstown, Vic
Marital Status
S
Enlistment Date
30/10/1915
Service No.
4519
Enlistment Place
Melbourne, Vic
Embarkation Place
Melbourne
Embarkation Date
28/01/1916
Embarkation Ship
HMAT Themistocles A32
Unit on Embarkation
6th Australian Infantry Battalion
Date of Death
17/04/1918
Unit on Death
6th Australian Infantry Battalion
Rank on Death
Private
Cause of Death
KIA
Place of Wounding/
Death
France
Cemetery or Memorial
Hazebrouck Communal Cemetery, Hazebrouck, Nord Pas de Calais, France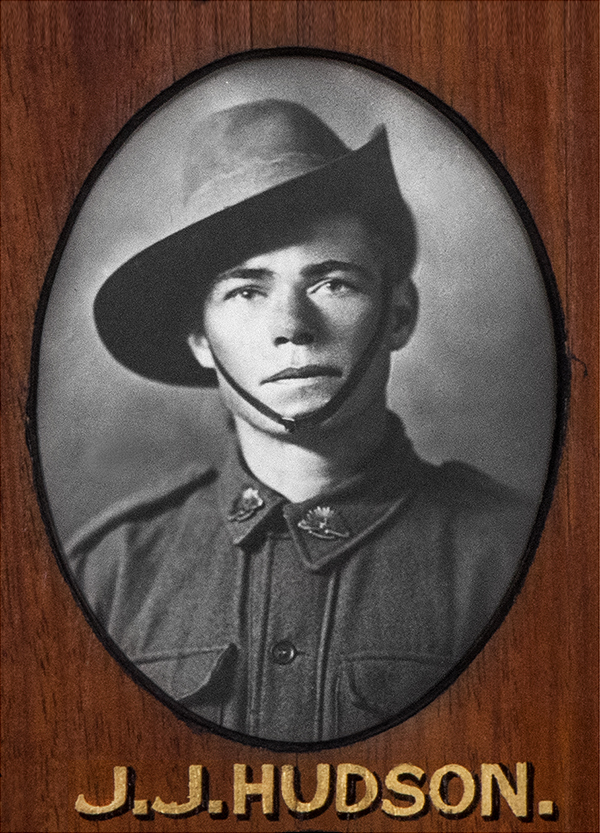 Additional Information
John Hudson attended Central State School, Williamstown and his name appears on the North Williamstown Presbyterian Church (now St Stephens). Mr Hudson received a letter from Lieutenant Pearse describing his son Jack Hudson as
'one of the very best soldiers that ever wore the Australian uniform'.
  He also said that Jack had
'died as he lived - leading an upright and honorable life, with every principle of that of a thorough gentleman'.
On the day the family received a telegram informing them that their son had been wounded, John Hudson's mother died.
Additional References
Williamstown Chronicle, Saturday 22 June, 1918, p3
Additional Documents and Photographs
Click on the image to see a larger view