Back to The 265
Charles Stabell
Name on Board
CW Stabell
Name on Service
Records
Charles Stabell
Enlistment Age
23
Occupation
Tinsmith
Place of Birth
Williamstown, Vic
Next of Kin
Derick and Hariett Stabell
Address
127 Hannan St, North Williamstown, Vic
Marital Status
S
Enlistment Date
19/01/1915
Service No.
2019
Enlistment Place
Melbourne, Vic
Embarkation Place
Melbourne
Embarkation Date
17/04/1915
Embarkation Ship
HMAT Hororata A20
Unit on Embarkation
14th Australian Infantry Battalion
Date of Death
20/08/1915
Unit on Death
14th Australian Infantry Battalion
Rank on Death
Lance Corporal
Cause of Death
KIA
Place of Wounding/
Death
Gallipoli (No known grave)
Cemetery or Memorial
Lone Pine Memorial, Gallipoli Peninsula, Canakkale Province, Turkey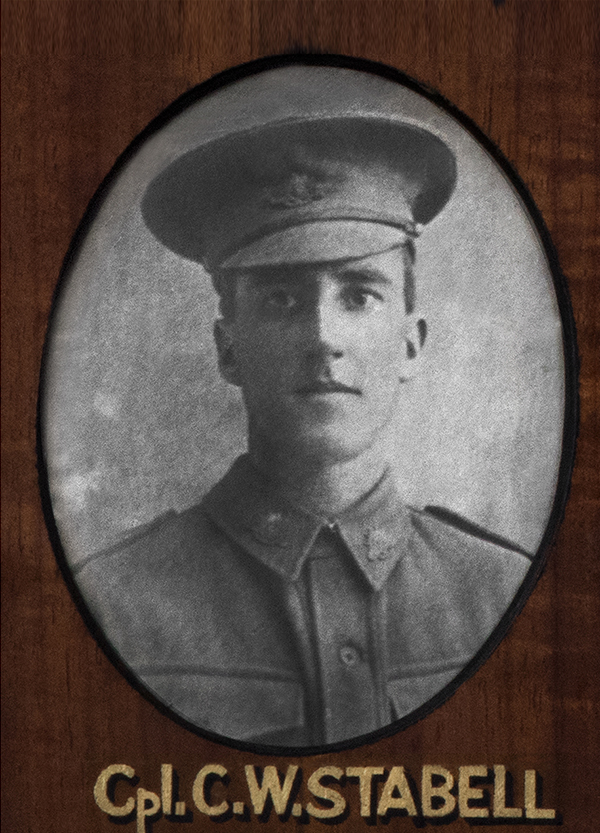 Additional Information
Charles Stabell attended the Central State School, Williamstown, the Electra St Methodist Church, was in the Junior Naval Cadets and later in the Naval Reserve, the Foresters and Naval Reserve Rifle Clubs.  Prior to enlistment he worked as a tinsmith for Wilson Bros, North Melbourne. His Mother told a reporter that Charles had written to his parents and told them
'to meet him in heaven if he did not return'.
Charles's brother, John Charles (8663) enlisted in June 1915 and returned to Australia in July 1919. After Charles' death his sister received a letter from one of his mates confirming her brother's death and reassuring her that his death was instantaneous.  He wrote:
'We were all sorry to lose him, as he was a jolly good corporal and well-liked by us'.
Additional References
Williamstown Chronicle: Saturday 25 September 1915, p3; Saturday 2 October 1915, p2 and Saturday 11 March 1916, p2
Additional Documents and Photographs
Click on the image to see a larger view