Back to The 265
Joseph Arthur Gilbert
Name on Board
JA Gilbert
Name on Service
Records
Joseph Arthur Gilbert
Enlistment Age
26
Occupation
Labourer
Place of Birth
St Leonards, Vic
Next of Kin
Mary Ann Elizabeth Gilbert (Father, Edward Gilbert had lost contact with the family)
Address
Redcliffe, St Leonards, Vic
Marital Status
S
Enlistment Date
11/01/1915
Service No.
1743
Enlistment Place
Melbourne, Vic
Embarkation Place
Melbourne
Embarkation Date
29/03/1915
Embarkation Ship
HMAT Shropshire A9
Unit on Embarkation
14th Australian Infantry Battalion
Date of Death
11/08/1916
Unit on Death
14th Australian Infantry Battalion
Rank on Death
Lance Corporal
Cause of Death
KIA (previously reported missing)
Place of Wounding/
Death
Pozieres, France
Cemetery or Memorial
Serre Road Cemetery No 2, Beaumont Hamel, Picardie, France (exhumed from original grave in 1930 and re-interred)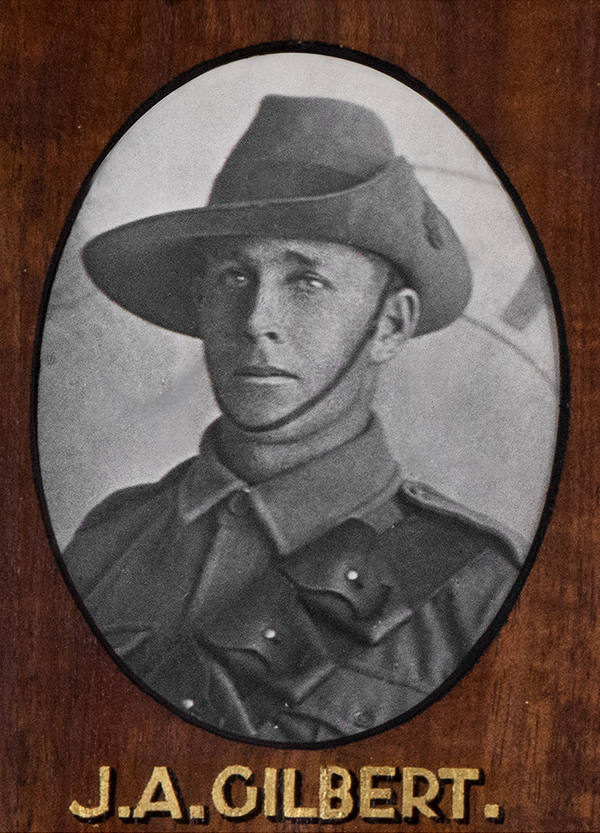 Additional Information
Joseph Gilbert worked for the British Imperial Oil Company in Williamstown when he enlisted in the 14th Battalion on 1 January 1915.   By September 1915, thirty-one men from the Williamstown branch of the British Imperial Oil Co. enlisted.
He fought in Gallipoli and the Middle East before being sent to France in June 1916.  It was during the offensive at Pozieres, where 23,000 casualties were incurred over a forty-five day period that Private Joseph Gilbert was wounded in the chest and died on 11 August 1916.
He was found and buried by his brother, Charles.  Unfortunately Charles buried Joseph with all his belongings including his identity disc which caused confusion with identification.
Fourteen years after he died the Imperial War Graves Commission sent his belongings in a parcel to his mother. In 1930 she received a letter to say that the Commission had recovered the remains of her son.   It contained his identity disc, fountain pen, compass, watch and cuff links.  With great compassion the military wrote 'These mementos, though now greatly impaired through long exposure will doubtless be valued on account of their former intimate association with your son'.    
His brother, Charles Gilbert, enlisted in September 1915 and returned to Australia March 1919.
Additional References
The Argus, Saturday 9 September 1916, p11
Footscray Chronicle, Saturday 18 September 1915, p2
Additional Documents and Photographs
Click on the image to see a larger view