Back to The 265
Edward Charles Chandler
Name on Board
EC Chandler
Name on Service
Records
Edward Charles Chandler
Enlistment Age
26
Occupation
Bottle Blower, Australian Glass Manufacturing Co Ltd
Place of Birth
Williamstown, Vic
Next of Kin
Dave and Emma Chandler
Address
81 Princes St, Williamstown, Vic
Marital Status
S
Enlistment Date
12/07/1915
Service No.
3072
Enlistment Place
Melbourne, Vic
Embarkation Place
Melbourne
Embarkation Date
29/09/1915
Embarkation Ship
RMS Osterley
Unit on Embarkation
5th Australian Infantry Battalion
Date of Death
14/06/1918
Unit on Death
5th Australian Infantry Battalion
Rank on Death
Private
Cause of Death
KIA
Place of Wounding/
Death
Hazebrouck, France
Cemetery or Memorial
La Kreule Military Cemetery, Hazebrouck, Nord Pas de Calais, France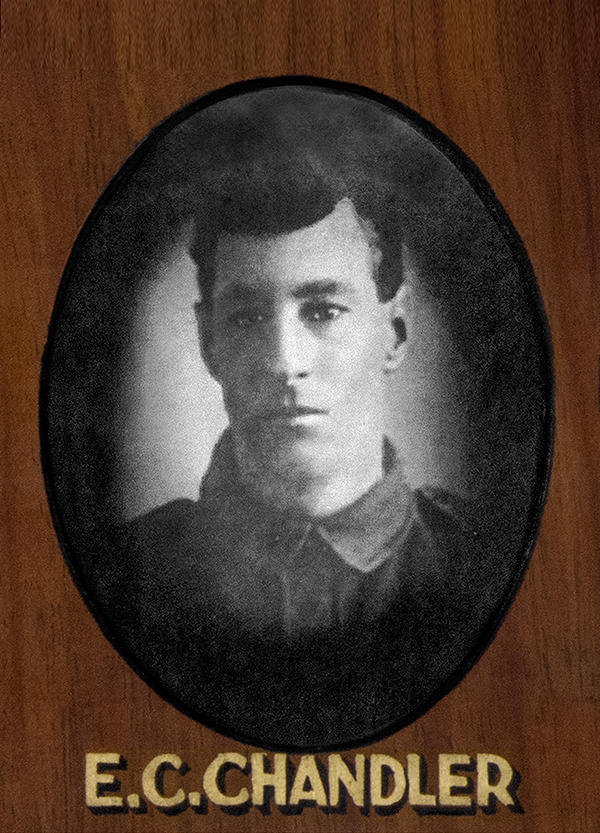 Additional Information
You can view a video story on the Chandler brothers on our Video Stories page
David and Emma Chandler had 6 girls and 5 boys.  Frederick, the youngest, was too young but four of the Chandler brothers enlisted – only one returned home.
David and Emma's eldest son, Edward Charles Chandler, enlisted in July 1915 and joined the fighting in France in March 1916.
He was first wounded in July 1916 and even though suffering from shell shock, was quickly returned to his unit in the August.  He was hospitalised a number of times over the year.
In August 1917 he rejoined his unit only to be wounded in Belgium in October and suffered another wound at Boulogne in April 1918.
He eventually returned to his unit on 1 June 1918 – he was killed in action thirteen days later, on 14 June at Hazebrouck.
The next of kin badge sent to Emma consisted three bars to indicate that she'd lost three sons in the war.  She was particularly upset when she lost hers in 1924 and applied for a duplicate, offering to pay ten shillings for a replacement.
The memories and sadness of their sons stayed with the Chandler family.  A family member recalls that their house in Princes Street was named "SEDWAR" (the initials of their three lost sons, Stephen, Edward and David plus WAR), although, as the house no longer stands, we are unable to confirm it.
Additional References
Williamstown Chronicle: Saturday 6 July 1918, p2
Photos and personal recollections courtesy of Max Chandler, nephew, and Kathleen Wilson great niece
Additional Documents and Photographs
Click on the image to see a larger view