Back to The 265
Edward Hoey
Name on Board
E Hoey
Name on Service
Records
Edward Hoey
Enlistment Age
29
Occupation
Labourer
Place of Birth
Williamstown, Vic
Next of Kin
John Hoey
Address
60 Nelson St, Williamstown, Vic
Marital Status
S
Enlistment Date
19/07/1915
Service No.
3782
Enlistment Place
Melbourne, Vic
Embarkation Place
Melbourne
Embarkation Date
23/11/1915
Embarkation Ship
HMAT Ceramic A40
Unit on Embarkation
14th Australian Infantry Battalion
Date of Death
3/04/1918
Unit on Death
46th Australian Infantry Battalion
Rank on Death
Private
Cause of Death
KIA
Place of Wounding/
Death
France
Cemetery or Memorial
Millencourt Communal Cemetery Extension, Picardie, France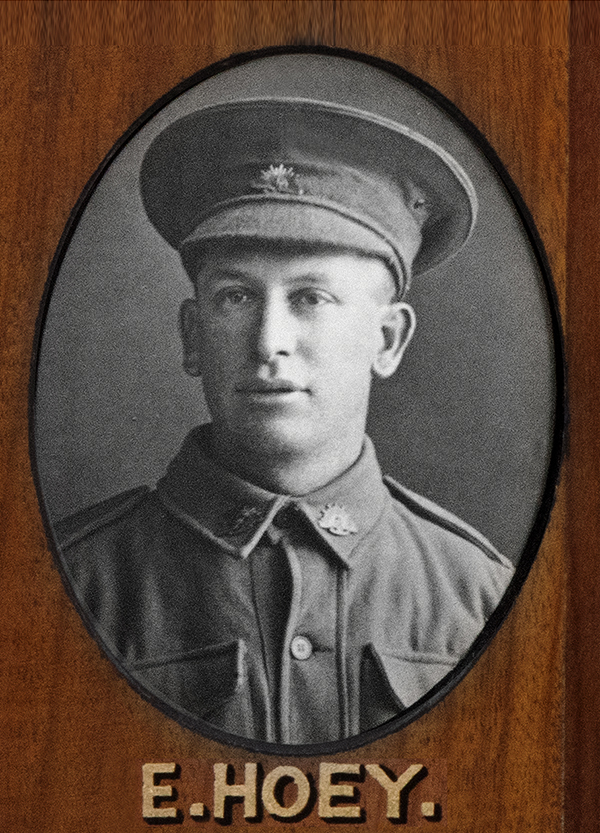 Additional Information
Edward Hoey embarked with the 12th Reinforcements of the 14th Battalion in November 1915.  However by the time he reached Egypt, the 14th had been reorganised and Private Hoey found himself in the 46th Battalion and sailing for the Western Front in June 1916.
In August 1916 he was sent to England with a fractured ankle.  He spent some time there, in and out of hospital and training at Perham Downs.  He re-joined his unit in August 1917, when the 46th Battalion would have been the fighting in the battles of Messines and Passchendaele.
In March 1918 he proceeded to England for some leave but seven days later was recalled to join his Battalion.  Less than one week later, he was killed in action, fighting during the German offensive around Dernancourt in the first days of April 1918.
He was buried in a mass grave with thirteen other men who would not be returning home to their families.
Additional References
Photos courtesy of  Norman Roberts (great nephew)
Additional Documents and Photographs
Click on the image to see a larger view