Back to The 265
Arthur Alfred Birch
Name on Board
AA Birch
Name on Service
Records
Arthur Alfred Birch
Enlistment Age
24
Occupation
Marine Officer
Place of Birth
Williamstown, Vic
Next of Kin
Alexander and Eliza Birch
Address
12 College St, North Williamstown, Vic
Marital Status
M
Enlistment Date
22/08/1914
Service No.
859
Enlistment Place
Melbourne, Vic
Embarkation Place
Melbourne
Embarkation Date
21/10/1914
Embarkation Ship
HMAT Orvieto A3
Unit on Embarkation
5th Australian Infantry Battalion
Date of Death
9/11/1918
Unit on Death
5th Australian Infantry Battalion
Rank on Death
Private
Cause of Death
Wounded at landing at Gallipoli
Place of Wounding/
Death
Wellington College Hospital
Cemetery or Memorial
Karori Great War Memorial Cemetery, Wellington, New Zealand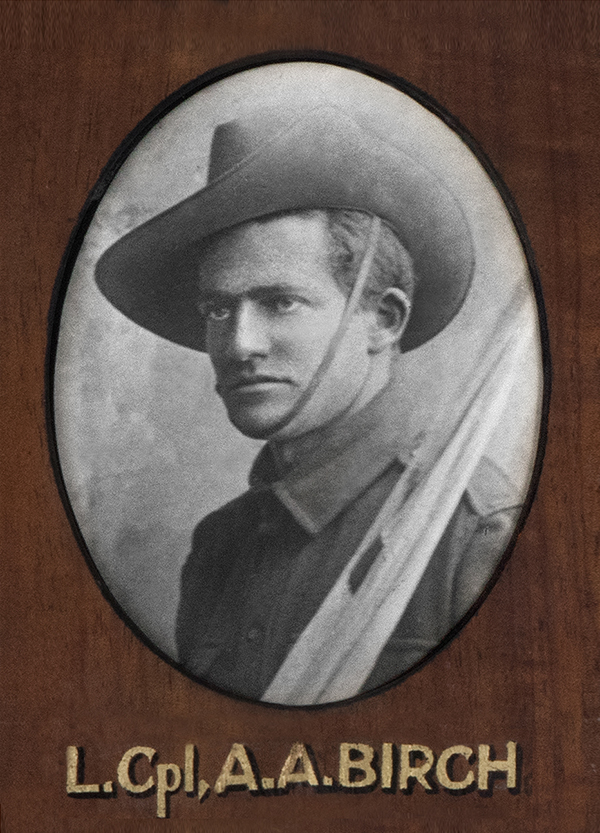 Additional Information
Arthur Birch sailed with the First Convoy of 38 ships which departed from Albany, Western Australia on 1 November 1914.
On his return to Australia in July 1915, Arthur Birch reported that of the 52 men who landed with him at Gallipoli on 25 April 1915, only six survived.  He was hit by shrapnel in the spine and a bullet near his right lung on 25 April 1915.  Arthur was admitted to the No1 Australian General Hospital, Heliopolis on 30 April 1915 and invalided to Australia in July 1915.
When he returned home he reported on Hugh Blair's (also on the Williamstown Town Hall Honour Board) act of bravery in rescuing a mate even though he was wounded in the scalp.
A medical report from Melbourne Hospital in September 1915 noted that Arthur had a weakness in the back and legs and was unable to completely straighten his back.
He died at the Wellington College Hospital, New Zealand on 9 November 1918.  In certifying his death, Dr Alfred Newman wrote 'L/Cpl Birch was brought into hospital in an advanced condition of illness and died. … A healthy well behaved young man would almost certainly have lived or put up a great fight.  …weakened returned soldiers have a very poor chance when attacked by influenza or kindred troubles.  When a weakened soldier comes here, I confess my heart sinks at the prospects.'
His wife, Alice Agnes Birch, and son, Arthur Alexander, lived at 32 Hobb St, Seddon.
Additional References
Williamstown Chronicle, Saturday 28 August 1915, p 2
Additional Documents and Photographs
Click on the image to see a larger view