Back to The 265
Gerald Calcutt
Name on Board
A Calcutt
Name on Service
Records
Gerald Calcutt
Enlistment Age
24
Occupation
Bank Clerk (Bank of New South Wales)
Place of Birth
Williamstown, Vic
Next of Kin
Joseph and Lucinda Calcutt
Address
12 Victoria St, Williamstown, Vic
Marital Status
S
Enlistment Date
15/08/1914
Service No.
474
Enlistment Place
Moonee Ponds, Vic
Embarkation Place
Melbourne
Embarkation Date
19/10/1914
Embarkation Ship
HMAT Hororata A20
Unit on Embarkation
7th Australian Infantry Battalion
Date of Death
24/05/1915
Unit on Death
7th Australian Infantry Battalion
Rank on Death
Lance Corporal
Cause of Death
KIA (initially reported missing)
Place of Wounding/
Death
Gallipoli
Cemetery or Memorial
Lone Pine Memorial, Gallipoli Peninsula, Canakkale Province, Turkey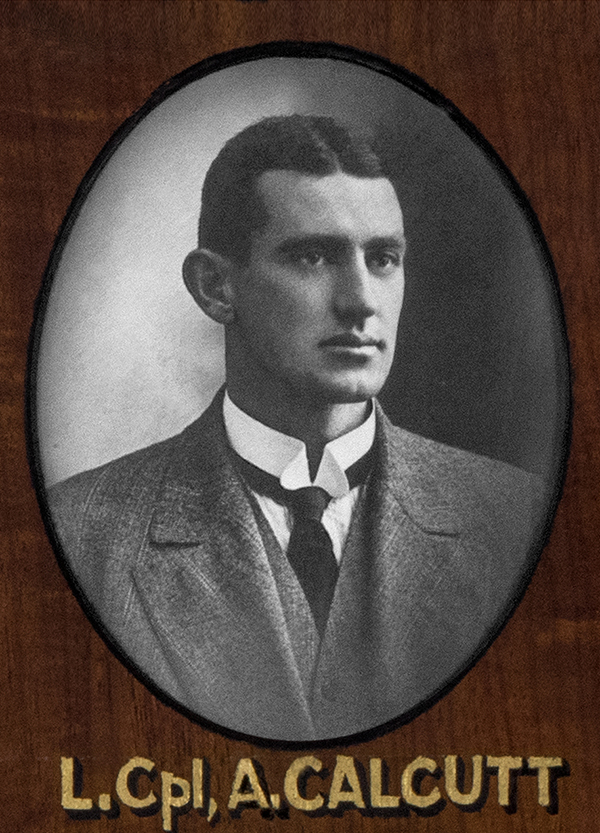 Additional Information
Gerald Calcutt attended Williamstown Grammar School.
He sailed on the First Convoy of 38 ships which departed from Albany, Western Australia on 1 November 1914.
Gerald Caluctt is listed on Williamstown Town Hall Honour Board as A Calcutt.
Gerald Calcutt was with the second wave of Australians to land at Gallipoli on 25 April 1915.  He was reported missing in May 1915 after being sent out on scouting duties.  Gerald's father, Joseph Calcutt, wrote to the military and spoke with numerous returned soldiers seeking information on his son.   A year after he was reported missing, in May 1916, a Court of Enquiry found he had been killed in action.
Brothers: Brendan Calcutt (2124), died in December 1916 of Septicaemia while a prisoner of war; Clare Calcutt (350) enlisted September 1914 in the 8th Light Horse Regiment, was invalided from Gallipoli and returned to Australia in July 1916.  Even though Clare was discharged as medically unfit, he attempted to re-enlist twice more during the war, in 1917 and 1918.
Additional Documents and Photographs
Click on the image to see a larger view